Transfer Window become over and over...
(CNN)
-- After a
frantic final day of dealing
twelve months ago, this year's January transfer window has passed off in a far less febrile atmosphere.
Despite not going anywhere, Manchester City's Carlos Tevez still managed to hog the headlines as he lodged an appeal with the English Premier League over his
six-week fine
($1.6 million) for gross misconduct imposed by his club.
The
Premier League
confirmed Tuesday that it had received correspondence from Tevez informing them of his intention to appeal.
The Argentine striker hasn't played for the Blues since he allegedly refused to take the field during a Champions League tie against Bayern Munich in September.
One Manchester City player who did manage to leave the Etihad Stadium was
Wayne Bridge
who has joined Sunderland on loan until the end of the season.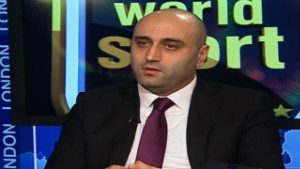 Soccer agent on tight money
The 31-year-old defender made just one appearance for Roberto Mancini this term and has played just 58 times for the club since he joined from Chelsea in 2009.
Bridge's former London employers announced Monday the signing of winger
Kevin de Bruyne
from Belgian side Genk for a fee of £6.7 million ($10.5 million).
Why has the transfer window been so quiet?
UK football agent Mel Stein says the imminent arrival of UEFA's financial fair play regulations -- which will sanction clubs for spending beyond their means -- may have played a role in the keeping the this year's January transfer window quiet.
He says teams want to conform and lower their wage bills and this is changing how transfers are set in motion.
But the 20-year-old prospect will remain at the Belgian champions where he will play out the rest of the season on loan to gain more experience.
Heading out of Stamford Bridge is 18-year-old striker
Philipp Prosenik
, who has joined AC Milan for an undisclosed fee.
The Austrian under-19 international joined the west London club from Rapid Vienna in 2009 but hasn't done enough to impress new coach Andre Villas-Boas.
Deadline-day: A football agent's inside story
sport football transfer deadline